…
a
multidimensional
identity
that was
at once
Polish,
Russian
and
French,
at times
mystic
and
gothic,
in others
realist
and
modern,
and for
a spell
orientalist
…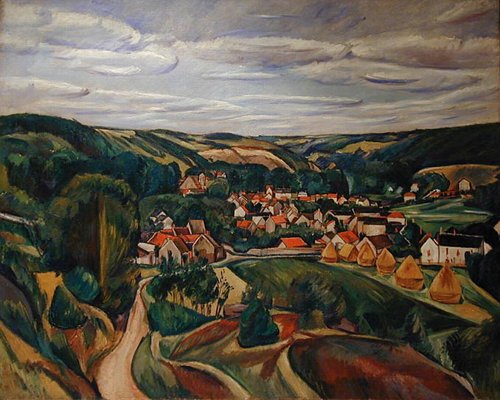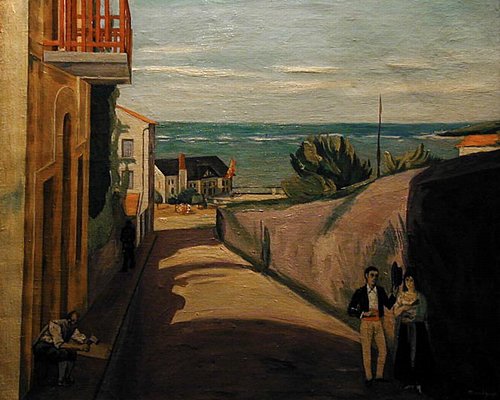 Born around 1888 in Chelm, a village near Lublin in Russian-controlled eastern Poland, Simon Mondzain, then called Szamaj Mondszajn, grows up in a pious Jewish family. He soon feels obliged to flee his environment to become a painter, a vocation considered profane by his family. From 1905 onwards, he lives by his wits, until he enters the Warsaw School of Fine and Applied Arts. In 1908, a grant allows him to continue his studies at the Imperial Academy of Fine Arts in Cracow, under the direction of the impressionist-influenced painter Jozef Pankiewicz. During this period, he frequents the Polish intellectual milieu and makes acquaintance with Kisling and the Polish painter Zawado.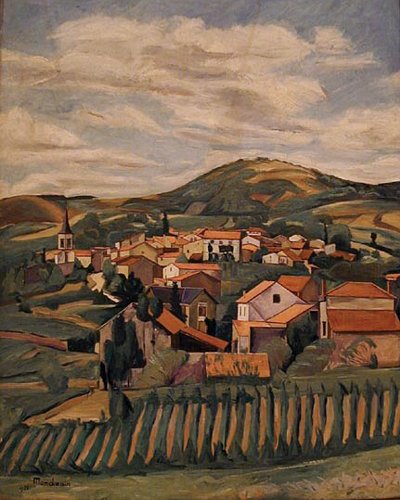 In 1912, Mondzain emigrates to Paris.There, he meets André Derain, who, as his mentor, will exert a marked influence on his work. As a 1920s Montparnasse painter, he rubs shoulders with Picasso, Modigliani and Othon Friesz as well as Apollinaire.Yet, as he defies both the avant-garde and other artistic movements of his time, one ranks him only among the painters from the Paris School (Ecole de Paris). In 1920, he writes in his diary: "I continue to mistrust the outside world, for I'm still afraid of being staggered, which is why, in any of my artistic efforts, objects and human figures are highlighted with an equal intensity. Each shape, each line must be enclosed within a clear form, so that nothing can disrupt it. Figures must be formed out of solid, muscular constructions, and there where they are placed, they cannot be elsewhere: it's here and not there. Certainty within the form is the only truth."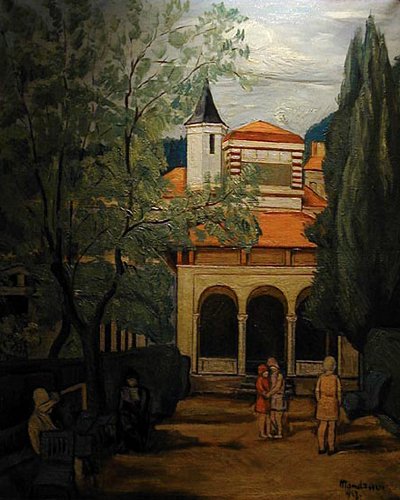 Enlisted in the Foreign Legion as a Polish national during the First World War, he depicts his life as a soldier in the Verdun trenches. Discharged in 1917, he paints several major works, amongst which Man with a Letter (L'homme à la lettre), which he presents in 1919 as his first participation in the "Salon d'automne" in Paris, and a pastel entitled Pro Patria.

The following year, he exhibits canvasses and drawings at the Fine Art Club in Chicago, including a first version of Tall Harlequin (Grand Arlequin). While the Druet and Paul Guillaume galleries begin showing his work as early as 1922, he is especially present at the Paris Salons, notably at the "Salon des Indépendants" between 1920 and 1946. From 1950 on, his work becomes less and less visible. His marriage with Simone Lemaire, a doctor residing in Algiers, leads him to divide his life, from 1933 onwards, between the French capital and the North-African colony, where he becomes close friends with Albert Marquet. In 1962, after the Algerian war of independence, he settles down in Paris for good. At his death in 1979, the Granet Museum in Aix-en-Provence organizes a show on his work, and pays him homage in 1983 in the form of a major retrospective.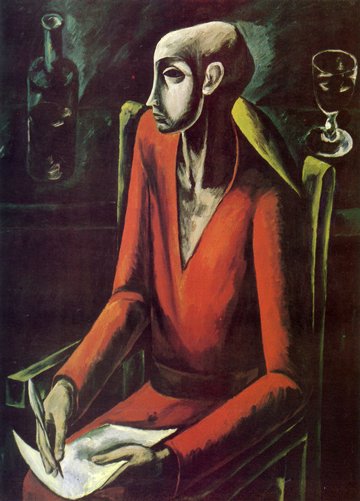 In 1996, the Bourdelle Museum includes several of his drawings and paintings in the exhibition Paris and the Polish Artists, 1900-1918, which is later presented in Poland. The works only return to Paris in 1999, when, on the initiative of Polish art historian Elzbieta Grabska, the Institut Polonais dedicates a retrospective to Mondzain, which later travels to the contemporary art gallery Zacheta in Warsaw and the Silesian Museum in Katowice.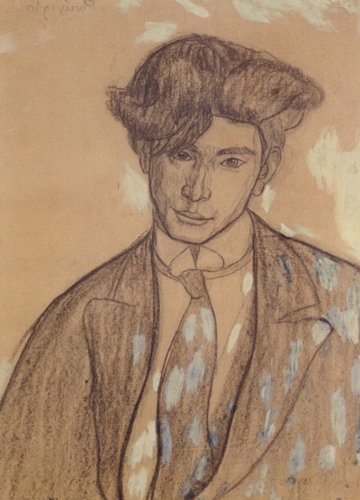 Without any particularism, being neither a Polish nor an Algerian painter, Mondzain knew how to resolve the inconsistencies of a contrasted identity, that was at once Polish, Russian and French, at times mystical and gothic, at others realistic and modern, and, for a while, orientalistic. Neither wordy nor very visible, he was above all a painter of landscapes and light, first in the Provence, then, between 1925 and 1962, as a contemplative witness of colonial Algiers, depicting its harbour and alleyways.The years 2004 and 2005 mark his posthumous comeback onto the French art scene, with a show of his work at the Rachi Center in Paris, and another of his war drawings and paintings at the exhibition Jews and the Great War, 1914-1918, at the Museum of the Art and History of Judaïsm.
Raya Baudinet
Paris, december 2004
translate by Adriaan Himmelreich