We bet

the nomination

will be

a surprise

as usual

and I would

really

like

to give

Darren Almond

this award.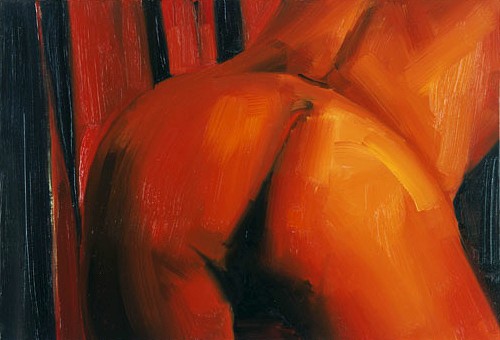 The shortlisted artists - Darren Almond, Gillian Carnegie, Jim Lambie and Simon Starling - are all British, and have been selected for an outstanding exhibition or other presentation of their works in the twelve months preceding their nomination.

Simon Starling "transforms and reframes existing objects using a rigorous process of research, and through sculptural installations creates poetic narratives by drawing together disparate cultural and historic references".
His installation is definitely poetic and takes us in a slow, silent and pilgrimage-like journey: A weird looking bicycle, based on a higly efficient electric system using hydrogen and oxygen, produces a waste of water used to paint a huge simple water-colour of a botanical cactus seen in the desert of Tabernas - unique European desert where "spaghetti westerns" were filmed. The contrast of the two objects is both weird, logical and funny. A big life-size woodshed is rebuilt in the middle of the room, a large simple black-and-white photograph of a boat on a river evokes lengthiness, and under the strange title of "one ton", is a set of four platinum prints of the South-African quarry, where one ton of the rock had to be removed in order to get the ten grams of platinum necessary to produce the prints.
Simon Starling creates a silent, humble but explicit work about the paradox of globalisation and absurdity of mass production. He creates "a parallel universe operating in the realm of the outmooded or the obsolete".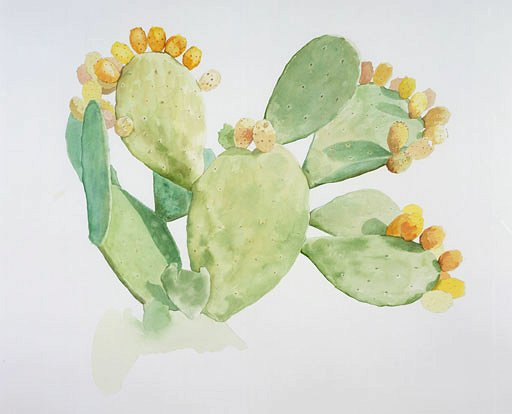 Darren Almond addresses "the themes of time, space and memory and their effects on both social and private stories". His installation is moving and captivating. It is both nostalgic and full of hope. Four screens, three very large, one small like a TV set. On the first one, a silent close-up of the face of an old lady, his grand-mother, whom he filmed in a hospital after she had a stroke. She seems to travel in the past, her expressions slowly move from absence to sadness, her intimate journey brings her smile or bitterness and her remembrances take us into our own family's memories. A soft, simple haunting piano-melody adds to the poignant atmosphere. On the second screen, a film in a ballroom, we only see the elegant steps of probably sophisticated dancers. She wears golden shoes, he wears varnished ones, and they seem to be alone and dance with passion. The third one shows an enlightened mill, slowly and noisingly turning his wings in the night, pure evocation of time, pleasure and death; on the small TV, a sparkling and silent fountain.
This installation captivated the visitors, who calmy sat on the floor and seemed to be deeply travelling in their own melancholy journey.

Gillian Carnegie "continues her exploration of the properties of painting, incorporating a wide variety of objects, subjects and techniques". "Her creation of a hermetic world seems to reflect the interiorised, intensely personal nature of the painting process itself".
Strange, unexpected exhibition of paintings, only paintings, no special subject, many styles, numerous techniques. Three explosive bottoms, inspired by Pasolini, two very large "Black Squares", Soulages-inspired black thick paintings, which, instead of producing pure geometrical abstract shapes, evoke a woodland scene, in contradiction with the traditional use of monochromes. A very classical painting of a garden alley in light green, painted with a wide range of densities and textures which make this work both classical and different.
Through her periodic series, compulsively returning to the same image or subjects, but varying her approach each time, she acts with a high level of dexterity and, as an art historian using a brush instead of words, she depicts and analyses the history of painting.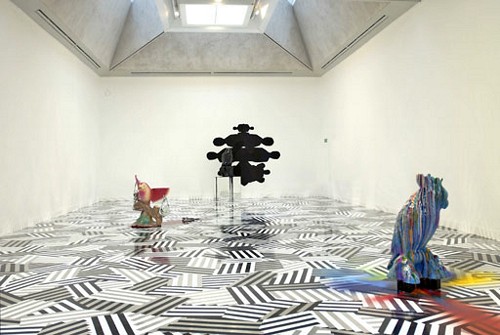 Jim Lambie produces "exuberant sculptural installations with reference to popular culture, transforming objects and spaces with such everyday materials as glitter and coloured tape".
Vivid colours, kinetic floor, vibrant assemblage of objects and materials sourced locally, his installation takes us in the energy and spirit of pop culture. An explosive set of colours cover his sculptures and energize the distorted architectural footprint done with continuous lines of tape in black, grey and white applied in a cross-hatch pattern to the floor, dramatically altering the mood of the space…
A huge Rorschach inktest on a wall done with the shadows of people on a bridge, multi-coloured parrots wearing retro bags resurfaced with pieces of mirror, Lambie recreates an adolescent world and ritually transforms simple odd equipments or materials into fetishistic objects of devotion. He offers a theatrical encounter between viewer and work.

We bet the nomination will be a surprise as usual and I would really like to give Darren Almond this award.